BIOGRAPHY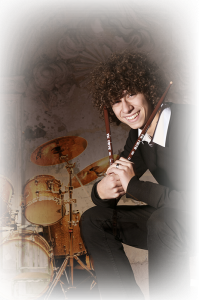 ---
He's been twirling the drumsticks between his fingers since he was two years old, and today his extraordinary talent is already well-known in the international jazz circuit.
He has played with the biggest names of the international jazz world. At just 18 years of age, Gianluca Pellerito is a star of the worldwide jazz scene.
He has two highly prestigious American tours under his belt and is the only Italian to have played at the Kennedy Center in Washington by express request of the Kennedy family. He made a prestigious appearance at the London Jazz Party in December 2011 with his quartet, and was a big hit with audience and critics at the European Jazz Expo 2011, not to mention the splash he made at Milan's Blue Note with his Quintet.
He was a special guest at the Incognito concert in July 2011 for the Funky Jazz Night at the Teatro di Verdura theater in Palermo and in January 2012 at the Blue Note in Milan.
Gianluca Pellerito is a worldwide spokesperson for Italian jazz music. He is a formidable talent destined to leave his mark in the history of the world's best drummers.
His first CD, Three Drums Show was produced by The Brass Group and features him together with Peter Erskine and Alex Acuña, two of the greatest drummers of all time, as well as the great orchestra of The Brass Group Foundation.
Gianluca Pellerito and his quintet have their next album recording job in December of 2012. Umbria Jazz Winter will be the extraordinary setting of the new live recorded CD for Gianluca Pellerito. Dedicated to Herbie Hancock, it is a very special tribute that marks several contemporaneous anniversaries in 2012: fifty years from Herbie Hancock's first album, Gianluca Pellerito's eighteenth birthday and his tenth year of participation at Umbria Jazz.
July 5, 2013, Gianluca Pellerito and his quintet play the opening night of Umbria Jazz in Perugia on stage in 4 november square, sold out and preview presentation of the cd, record label Universal Music, entitled Jazz My Way - Herbie Hancock Tribute